a cosy and luxury mountain chalet
Stay in a much-loved destination in France! Our cosy and well equipped chalet, situated in the mountain village Oz in the valley of the Oisans, will bring you unforgettable vacation experience. From the chalet you can enjoy the surrounding mountains all year round, in the summer by bike, in the winter on skis and in fall and autumn by foot.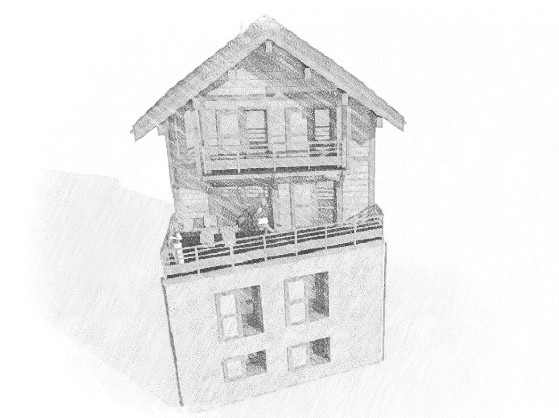 and services at the Chalet
Stay connected troughout the chalet and the apartment
You can store your bike in our locked bike garage. There are also utilities to clean or fixe your bike
The chalet provides a ski room were you can store your skis or snowboard and even drie your shoes
The luxury living room has a big dining table, fully equiped kitchen and comfortable sofa area fromewhere you can whatch tv
We are Pim and Jorinde and the proud owners and hosts for your holiday. Pim is a chef and Jorinde your host. We have both years of experience in the hotel and restaurant business
In the living room there is a bar, which we can stock for you with your favorite beverages
Terrasse with mountain view
The open plan living area give you enterance to the terrace with a panoramic view over the mountainside. There is also a comfortable sitting area on the terrace
Ideal location all year round
The chalet is situated in the heart of Oz village in the Valley of the Oisans. Surrounded by mountain peaks. Ideal for your mountain sports holiday, like hiking, Biking or Skiing
The building next to the chalet is our restaurant "Auberge la Cure". During your stay we can book a table for you if you like.
You can park your car on the parking next to the marie or in the village
You can arrive and depart on any day in the week
At the chalet we have a washer and drier at your disposal.
Upper floor: 2 ensuite rooms
The exclusive chalet offers two ensuite rooms with balcony on the upper floor.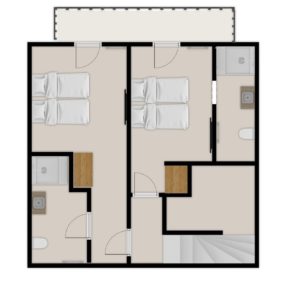 Second floor: living and dinning area
On the second floor, there is a open concept living area with dining area, kitchen and bar. The dining table offers enough space for 10 people. From the living area you have doors to the terrace, with breathtaking views over the mountains.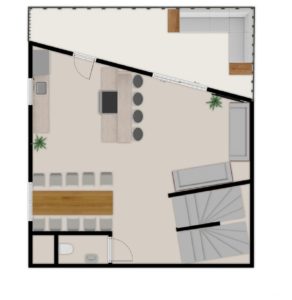 First floor: 2 ensuite rooms
On the first floor is the entrance to the chalet and there are also two ensuite hotel rooms. They have big windows from the floor to the ceiling.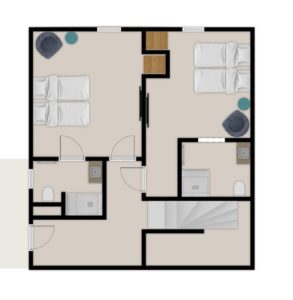 Ground floor: Apartment and garage
Then on the ground floor there is an appartment for two people, with open concept living area with kitchen and dining table. A bedroom for two and bathroom with shower, sink and toilet.
You can store your skis or bikes in the garage next door.